If you come here looking for "what I wore" or "outfit of the day" posts, you'll be greatly disappointed.
I could care less about fashion.
The only accessories I don't leave home without are:
1. A pair of my
Tiny Galaxies
earrings - I have many and love them all.
2. A pony tail holder
3. My wedding ring [on the days I don't leave it on the window ledge above the sink]
anything else is quite insignificant.
I have a pair of flip flops, a pair of tennis shoes, a few pairs of jeans, a closet full of T-shirts, and 3 or so sets of work scrubs.
Tiny Galaxies....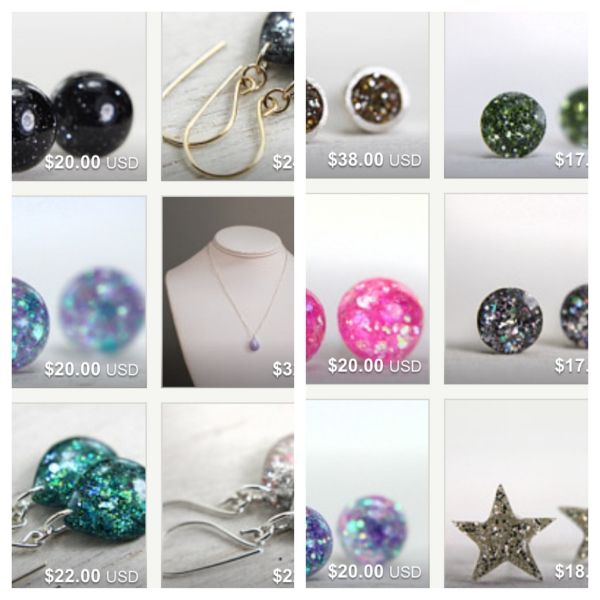 So - sorry.
You won't be seeing pics of me styling and profiling in the latest fashions, giving the camera a sly grin as I sport my favorite business casuals, or the ever so popular pic of me holding the camera at the top of me and taking a pic of the shoes I'm wearing.
You just won't.
Sometimes I do feel the need to add to my accessory collection.
THESE
bracelets are totally do-able.
They are reminiscent of the hemp bracelets/anklets I used to wear in high school.
My 4 year old loves to sneak into my bathroom drawers and find all the jewelry I don't wear.
Then I find it in her room while picking up the every day mess of Polly Pocket clothes, shoes, Squinkies, tiny beads, and other small things.
She likes little things.
"Likes"
may actually be an understatement.
You don't even want to know how many times we've accidentally vacuumed up her littles.
She's been going to The Harvest 4K preschool now for about 3 weeks. Here lately, she's been trying to convince me to make her lunches so she won't have to eat what they serve her. This was her attempt at putting together her own lunch last night.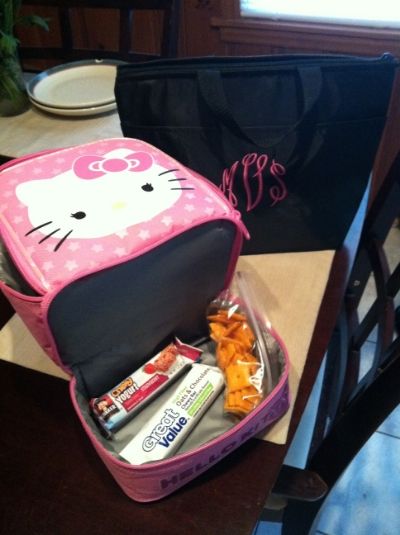 gonna have to work on that...
I guess I'm going to start looking for healthy little lunch ideas to pack in that Hello Kitty lunch box of hers.
She is so funny.
It's an ordeal just figuring out what Hailee is going to wear to school the next day.
She's got opinions and ideas.
Now that girl just may be more of a fashionista than I am.
School picture day is coming up in 2 weeks.
I foresee a shopping trip in the near future to let her pick out an outfit.
Maybe then, I'll put a "what she wore" post up.
Just for my little fashion princess.
You also won't find many DIY posts on here.
Not that I don't like making things, but time is pretty much hard to come by.
Besides a few simple things here and there, I don't have the time or patience to post step by step directions on how to Do Something Yourself.
Here is one and only one DIY I'll put up for my washi tape orgaination.
Step 1: Go to the store and buy a small tension rod in the curtain rod section.
Step 2: Put your washi tape on it in whatever order you so desire.
Step 3: Unscrew the tension rod until it fits where you want it.
BAM!
You are welcome.
Pinterest is a wonderful site for all things DIY and Fashion.
I just may need to look back over all the things I've pinned and actually start doing them.
Until then, I'll just waste time browsing over all the things everyone else has done.
I'm working tonight so I may not be around for a few days - at least until I catch back up on sleep.
I'm always looking for new music.
Music is in my blood.
It's just that important to me.
I connect through music more than anything else.