friday :)
this is usually when i update my blog.
but when i woke up this morning, i realized my week [to an outsider] has been rather boring.
i've been so BUSY with school that i haven't had time to take pictures, or do anything fun.
i was going to write out all that this week has encompassed - mainly so i could process it - but once i started writing it out, i though about how boring it would be to read.
i know this is MY blog, and one of my main reasons for it is to document my adventures in nursing school.
so maybe towards the end, i'll throw it in - just for those who are curious...
here is today. [since i've been slack at taking pictures this week]
we started out with a little game of candy land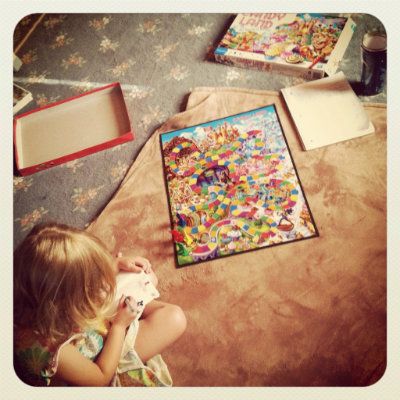 then, she put some stuff in the buggy and drove it around the house.
she wanted to take it with us to the grocery store, but i kindly declined that.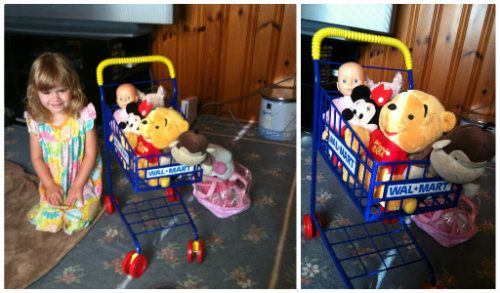 fun.
i know.
i let her pick out what she wanted to wear today.
she was not mad in these pictures, i promise.
just posing a little hard.
hailee and i made a trip to the grocery store this morning.
at the end of our road, i saw the saddest, sweetest thing.
while stopped at the stop-light at the end of our road, i happened to glance over into the other lane because i saw some activity on the road next to me.
a little bird was hopping around something in the road.
on a closer look, i noticed it was another little bird that must have gotten hit by a car.
i saw the other bird's head go up and down, like it was trying to get up.
and the one that was hopping around looked like it was doing all it could to encourage the one laying down to 'get up'!
i know they're just animals, but what if they were love birds?
how sad would that be??
it was like a scene in a movie, only with birds...
i was there long enough to watch a car turn onto my road and THEY saw the little birds too.
that driver went out of his way to go around the birds - all the way in the other lane.
moving on...
they gave her balloons when we walked into the store.
these balloons were then tied on to my shopping cart, making it hard to see around corners.
that was an adventure in itself...
then, on the way home, these balloons were trying to make their way into the front of the car.
i got ribs, steak/chicken kabobs, a smoked ham butt portion [so good]
i know it's a lot of meat, and there isn't any real reason that i wanted it all.
i'll have to 'learn' how to cook ribs, and how to tell my husband how to grill the kabobs.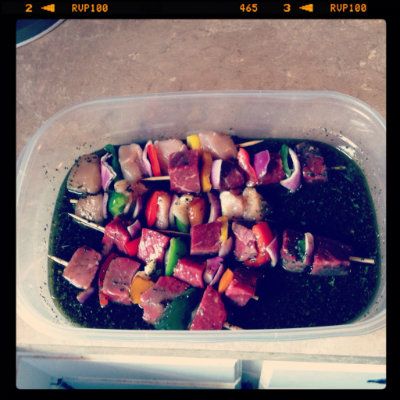 we gonna grill this weekend!!!!!
best steak marinade ever
1/3 cup soy sauce
1/2 cup olive oil
1/3 cup lemon juice
1/4 cup Worcestershire
1/2 tablespoon garlic powder [or real minced garlic is what i use]
3 tablespoons basil
1&1/2 teaspoons parsley
1 teaspoon ground white pepper [i usually just use black pepper]
so, now that the kabobs are in the marinade, the ham is in the oven, and the ribs are waiting on further instructions from anyone that knows how to cook ribs, let me tell you about my week :)
two weeks into school
:
i had my first
pediatric clinical
. now, i have to do all the paperwork that goes along with clinicals.
that would be a basic human needs assessment, 7[?] nursing diagnoses from our NANDA book, a patho report on the major concern for my patient, my medication sheet for my patient, a careplan focused on one of my nursing diagnoses, and a reflective journal based on my clinical experience.
i had my 1st
NUR 212 test
: 91/A
and i haven't even been able to buy my books for the semester yet :)
our 1st
DCT [dosage calculations test]
is tuesday and it will have IV questions and drops per minute questions along with all the old stuff we're used to being on the test. And now that we're seniors, we get to use our $4.95 nursing school approved calculator from the book store. (even though after 2 semesters of not doing math with calculators, i don't really need one anymore.)
there is also a video recorded lecture online we have to watch, teaching us how to do the new senior level math problems.
speaking of watching recorded lectures - there are a
few hours of lecture to watch
out there before our
2nd NUR 212 test
, thursday. i would much rather have lecture IN CLASS. do you know how hard it is to watch a lecture and pay attention to it while having a 3 year old constantly needing me and a husband that gets aggravated with me any time i try to focus on school while we're all together as a family??
it's hard.
and for our
service learning project
, me and 6 others will be helping/observing at
Camp Kemo
for the week they're there. We're researching lots of info on the campers, having to do a huge summer project after our experience there. lots of time and work involved. we meet as a group every week. we have to put together a notebook of our experience, and give a presentation with a trifold poster board at the end of the semester.
we had our
IV therapy class
this week, because next semester, we'll be starting IV's, and giving IV meds.
THAT
is kinda scary. i will have to practice this skill and get checked off in the 1st week of June. i feel like i'm all thumbs JUST trying to tye the tourniquet on. then, after that, i'll be sticking a needle in someone's vein.
frightening.
we also had an
injections lab
because one of our clinical sites is the family health center in orangeburg. we'll be giving CHILDREN vaccinations. if you've ever seen a child get a shot, then you know how much no one likes the nurse that is giving that child a shot.
that will be me.
the one no one likes.
i'll have to work fast.
that is not high on my list of 'fun things' we're supposed to do this summer.
our instructors have said this will be a
fun semester
.
we're just getting started.
oh, hello 4 day weekend - sure am glad to see you!!
let the FUN begin :)