It's been an adventure so far, and I'm going to learn
much much more
in the whole scheme of things. Just being reflective and thinking about all I've learned thus far from being in school full time...
Having a supportive family is way important! Mine has been there for me from the beginning, encouraging and helping in any way they can. My ENTIRE family (close and extended) is the only reason I can do this school thing. I see how much harder it is when you don't have a family behind you, and realize that I'm so very blessed with a wonderful family!
I've learned that when ordering your uniforms on the 1st day of school, most definitely go up a size. Just so they're a little "roomy" and not an exact fit. These uniforms are supposed to last us through the 2 years in the program, and fluctuations HAVE happened in all our weights.
speaking of weight - I've learned NOT to reward good grades with cupcakes :) No one's celebrating when that extra weight appears...
I've learned how to IRON!! yep, not something I've ever done on a regular basis, but believe me, I can do it so fast now, I'm even surprised. I remember ironing my uniform the 1st night - it took me 2 hours - no joke. Now, I can do my whole uniform, lab coat, and dress outfit (to go pick up assignments the previous day) in about an hour total. [maybe even less...]
I've learned the importance of being organized and prepared for class. No one can do it for you, and there's so much to keep up with - there's no way NOT to be organized.
It's always a good idea to have an outlet besides school. I know we're expected to eat/sleep/breathe nursing school, but there MUST be time not spent completely in the program or major burn-out will happen.
I've learned that even though there are many yummy fast food options in Orangeburg to choose from for an easy lunch, it's not always the best idea. Going back to the whole extra pounds thing...
I see just how fast my baby is growing up - while I'm immersed in school. Time does not stop, and she's going through some crucial developmental periods right now. It is sooooo important to sit down, see her sweet face, hear her precious voice, play her little games, hold her so close, explain her "why's", laugh at her jokes, and encourage her growth. I'm going to turn around, and she'll be years older. I don't want to miss a thing.
I've learned that if you don't have to work/have a job while in school - don't. I'm so blessed to not have to work right now. I could do it - not on the level that I'd want to, but it is possible, not recommended.
Your teachers really do want you to pass, no matter how hard school is.
I've learned not to drink coffee past 4:30 pm, unless I plan on staying up past 1 am.
on that note... I've also learned that no matter how much I need to study, if I don't get sleep, I won't do well. My mind shuts off and will not accept any more information after a certain point. I gotta go with that.
I've learned that the people in your class understand what you're going through and that is why so many close friendships are formed in school. My classmates are all great, and I'd do anything I could for any of them. I try to contribute and help out in any way that I can, and it's all worth it. We're all headed toward the same finish line - and there's no room for competition. It is sad when people have to leave the program.
Nursing school costs money, no matter how many grants/loans you get. I go through so many printer cartridges and so much paper it's not funny.
I've learned that once someone in class gets sick, most likely, it will make it's way around the class. That is not fun. Vitamins are important. Sleep is important. Eating right is important. Exercise is important - this i have not been doing as much... I need to start back as soon as I get over this cold thing I've got going on.
anything from anyone else that you've learned?? any advice from those that have done this before?? ALL of it is welcomed! :)
*****
IN OTHER NEWS...
I was soooooo looking forward to sleeping in this morning. but that wasn't on the agenda for today!
Instead, Hailee started "school" :)
We're trying out the pre-school at Dutch Fork Baptist in Irmo.
She's going 2 days a week and if she does good and likes it the rest of this month, we'll let her spend a few more mornings there.
Hailee is super social and thrives with interaction. She's so smart and it's probably about time for her to start getting stimulation other than me, roger, my parents and her aunts/uncles/cousins.
My mom took her the 1st day and she jumped right in and started doing crafts with the other 2 year olds. She brought this home and when she gave it to me, she said,
"Mom, you don't supposed to eat the seeds"
hahahaha!! that's right :) So serious!
My parents took her to the store to pick out a back pack, and she did just that!! She knew how to put it on and refused to take it off, even when eating and going to the potty. Silly girl!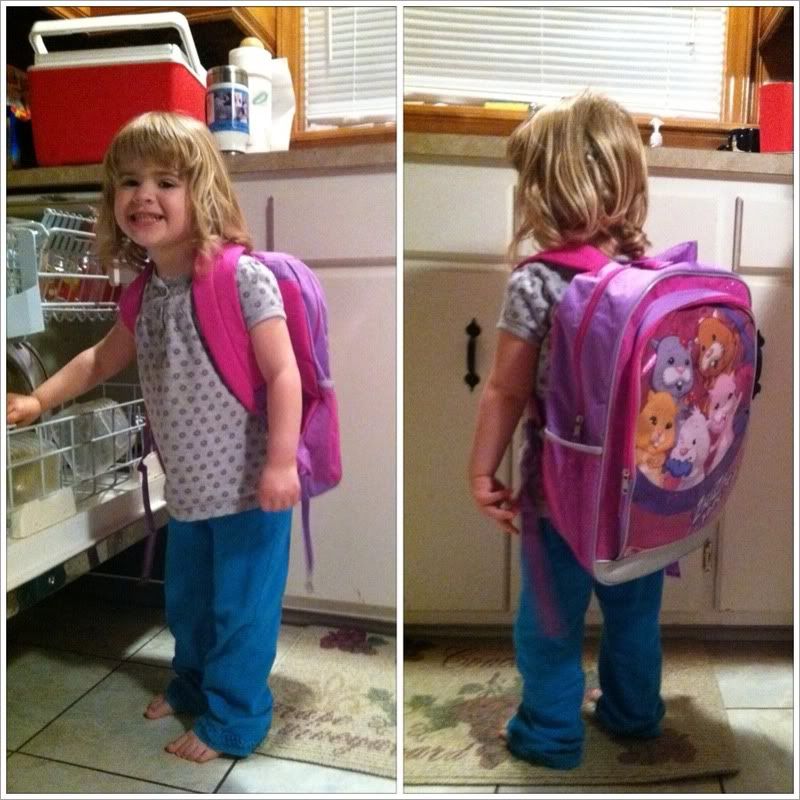 She picked the one with the ZhuZhu babies on it.
Here is a recent drawing of hers. She had to stop because the tip of her red crayon broke and she wasn't very pleased with it breaking. I love how her people all look the same. Head, then arms/legs/hair coming right off it.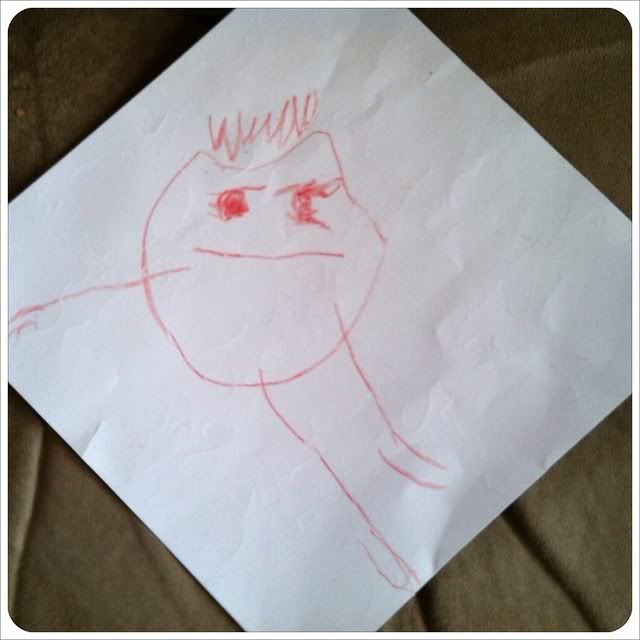 She made us a sweet valentine's day card too!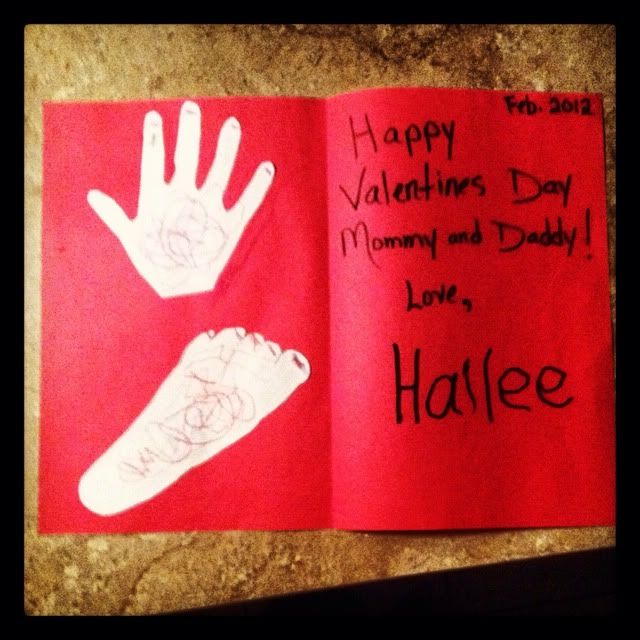 It's supposed to be 80 something degrees today. This is not like any February I've ever experienced in SC - or any other winter for that matter. I'll gladly take this beautiful weather - but not all the mosquito's that are supposed to be HORRIBLE this summer. [since it hasn't gotten and stayed cold enough to completely kill them off] I have been seeing mosquito's around my house -on the outside- for the past few days now with all this rain too. Hate em.
Hope your weekend is full of good times.