i like to blog. even if no one reads it - it's an outlet -
not a diary
. maybe one day my little girl will read it. maybe.
i am honest and try to live my life "above reproach" as the bible says - not doing anything in secret that i wouldn't want publicly known. i am the same at home, as you see me in the world. as Christians, we're supposed to shine our light for all to see.
"Let your light shine before men in such a way that they may see your good works, and glorify your Father who is in heaven." -Matthew 5:16
i want my blog to be somewhere that isn't embarrassing, or full of stories, pictures, words and actions i wouldn't want to share. wholesome, good and every-day life.
i would love to share more of my heart - because it is full.
full of love for my family, full of contentment with where i am in life, full of joy because of who i'm living for [JESUS!!]. and home is where my heart stays. love abounds.
i love to write. i don't always have the time to do it. and i'd like to have more time for my family.
the one thing i will say takes the longest and is the most frustrating when it comes to my blog:
photobucket
!
[ohmygolygosh it's doing it right now!!! i've control-alt-deleted this thing like 5 times already. tends to get a little stuck in photobucket :|]
it can get on my last nerve trying to re-size the pics, and put them in collages.
unfortunately, this is the only site i know of that converts pics to html so i can drop them in my blog.
i love to take pictures. even though i'm not a skilled photographer. and my daughter is starting to get aggravated with my camera constantly in her face. maybe one day, i'll actually order some of the pictures i've taken. maybe.
i have a cold that i just haven't been able to shake. ever since january, it's been this cycle of getting sick then starting to get better, then maybe a day or 2 of WELL, then sick again. boo. i need to start taking vitamins regularly instead of just when i remember. it seems like i'm hacking my lungs out and i know i'm gettin on roger's nerves with all this coughing, but as hailee will say, "i gotta frog in my throat" and it just won't go away.
this semester is hard. i may have said that about last semester too, but really, there isn't a single moment in my day when i couldn't be doing something involved with school. and as if we didn't have enough to do already, we're constantly getting emails to watch this video, post on our message board, read this article, read this chapter... it doesn't end. preparing for and homework for clinical is exhausting and uber time consuming. i never would have thought so much would be involved with our clinical. that's what i get for thinking...
when i have clinical, i spend the night with my aunt and uncle in orangeburg, 10 min away from the hospital. i stay in the room my grandparents used to live in when it was their house. my aunt has done a lot with the house since they moved in. i have so many wonderful memories of that very old, very beautiful house. here is my room in my home away from home.

this is the house - the tall one is my cousin, my dad, his brother (uncle billy), and sister (my aunt eddie who is my namesake; middle names both elizabeth), who grew up in this beautiful old house.
my child knows how to work my iphone. she's figured it out all on her own. i can't say i'm surprised.
playing with her is so much fun. she's very set in her ways.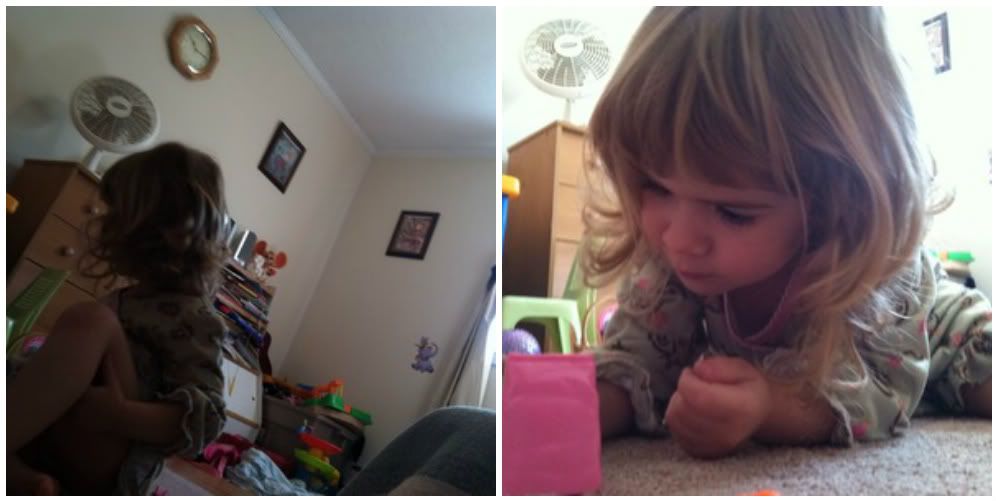 i'm still not a fan of waking up at 5:00 am, but i have to say, sunrises can be breathtaking.
here are my 2 favorite bags, from my two favorite sister-in-law's, blair and cynthia :)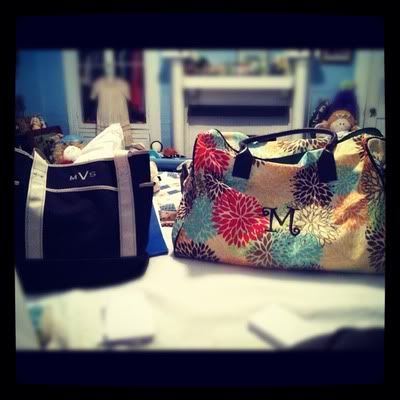 the smaller one comes to clinical with me every friday and is the perfect size for it, and the larger one is my spend the night bag and it's the perfect size to hold all my sleep-over supplies. best. gifts. ever.
how can you ever go wrong with getting someone a good bag?? you can't.
and i love to edit photos. it's fun. i do it through instagram, pixlromatic, frametastic, & photosplash on my iPhone (when i have a little extra time). it's a weakness of mine.
i'm so not a part of some of the things i previously was before school. i don't know a whole lot of what goes on unless i hear it from my husband or friends. [honestly, friends = nursing school classmates] roger is as involved in our church as he can be right now, and even though it may not be enough for his liking - he's there a good bit.
recently, he told me about spending some time with some Christian friends that were not exactly living the same way we do - in the way we are super cautious about what is in our home, how we talk to each other and the way we talk to people outside of our home. it was a little upsetting to him, which i can completely understand where he is coming from - before his life changed, he saw "Christians" and "the church" as hypocritical.
Not sure if it's right to "expect" anyone to be a certain way, but i can see where someone could be let down by it.
i understand that we are all works in progress, but in
trying
to justify things we shouldn't be doing, that in itself should be convicting enough. i would never judge anyone for anything they do, because chances are, i've done and will do the same thing one day. judging would be hypocritical of me.
i stand behind my husband and the decisions we make for our family.
i am proud of our family and look forward to learning and growing as a family.
we've come a long way in our 3 short years together.
now, time to go jump in the books since hailee is safely at mimi and papa's for the evening and all's quiet on the homefront. i have 2 mega-huge tests tomorrow i'm not exactly looking forward to.