and with that
- the 1st week of my 2nd semester of nursing school is
...... DONE
!!
we celebrated by making a batch of cupcakes :) my helper is the best!

Our 1st test of the semester - NUR 111 - is Tuesday! Gotta love starting the semester by jumping right in!
My study guide is made, everything is already transferred into the notebook that keeps all the finished units we do, and now, I just need time to study.
Our test is on the reproductive systems of both men and women and all the problems that go along with their lovely parts. I'm learning stuff I've never even seen/heard of before. Interesting stuff.
We have to write a process paper this semester too that will be a minimum of 10 pages. HOWEVER, with all the information that will be going into it, that paper will be WELL OVER 10 pages.
In APA format.
With references and in-text citations.
And headers/footers.
I haven't written a paper in years.
This is going to be so much fun.
We met with our clinical instructors the other day and our group is starting the week after everyone else because our instructor is getting married and will be out of the country. SO, at the end of the semester we will have to make-up those clinical days when EVERYONE ELSE will be done and studying for final exams.
joy.
We'll be doing all kinds of stuff this semester. We have to go to the hospital the night before our clinical and get our assignments. There will be an overabundance of paperwork that we'll be filling out with all the history and diagnosis stuff and medications ...
We'll need to be at the hospital, ready to report to our instructors by 6:30 am.
We'll give bed baths if needed, give medications at their scheduled times, trach/ostomy/catheter care, help with feeding if needed, take their vital signs, start head-to-toe assessments, and chart EVERYTHING!
I'm pretty sure I've left things out because it's so much more than we did last semester.
Oh, and the naked thing - the part I was most worried about - I didn't even remember to be embarrassed. No big deal. They need my help with anything, and that's what they'll get.
My on-line class, PSYCHOLOGY 203 [human growth and development] is off to a good start. Once I finally got mydevelopmentlab up and running, I started myVirtualChild.
It's a boy!!!
I named him Aiden. (That would have been Hailee's name if she was a boy.) The assignment was to raise him to 3 months and then wait for the next assignment - it goes along with our book. All it is = answering questions pertaining to how you would raise a child; and since I
HAVE
a child, I'm pretty much putting all I've done with her up to this point. So far, keeping that class up to date. My head was killing me before it was all over. Things were not going smoothly with registering online - so I turned it all off and walked away. When I came back to fuss with it some more, it all just magically appeared and was how it was supposed to be!
MICROBIOLOGY - the teacher is great. But I have a feeling I'll have to read the book in order to study for the class. I was told that if you go by his PowerPoint's/class notes, you will fail. So, I'm going to make my own notes from the book. We'll see how that goes. Our first MICRO test isn't until the end of January so I've only done a little bit of work on that. My focus is on the Nursing courses at the moment. But, I've got tons of note cards for all the bacteria/viruses/blah blah blah that I've got to memorize.
PHARMACOLOGY = memorization. NUR 161. I have a quiz next week on the syllabus. As if there weren't enough things to study, now we have to study the daggum syllabus.
Got off from school and went to pick up Hailee from mom and dad's the other day. I snuck up on them and this is what I found ;) peeping over the fence with mimi.
She did a little garage kayaking too...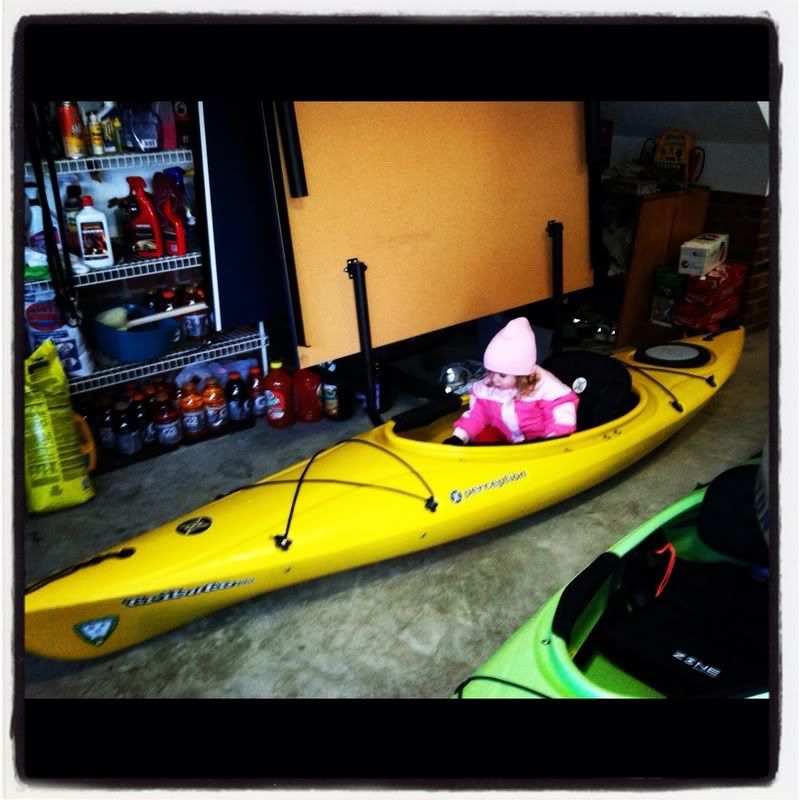 So, I'm sure y'all know already, but my husband has been through the
U-Turn for Christ
program at Calvary Chapel Lexington. I would MOST CERTAINLY recommend it to anyone who is going through any kind of problem or addiction. We didn't even know about it until the last minute and what an absolute blessing it was for Roger's family to find it.

He's had such an interesting journey thus far.
Watching him go from a drug-using, self absorbed athiest to a surrendered Christian man, and the leader of our family, has been nothing short of amazing. It's proof that with God, ANYTHING IS POSSIBLE!! There are many men and women that come out of this program and continue to live the life they've learned is pleasing to God. They develop relationships that are genuine friendships and love serving people in any way they can. But there are those that finish the program, (graduate) and move out - back into the real world, and sometimes their past addictions have a stronger pull than their new convictions. It's sad to see people fall away from God, and revert back to the very thing that made them decide to make a u-turn for Christ in the 1st place.
This is always in the back of my mind, because with me in Nursing school, my involvement with the church has been put on hold for a season. And as a very sweet friend once said, it's important that nursing isn't more of a
career
, than it is my
calling
. Right now, my focus has the tendency to be more on school than it is on God, and that will just lead to more stress and aggrivation than if I were to let God just be in control of things and seek His will first. My prayer this semester is for me not to forget my 1st love because with all the work I'll be doing, it will be so easy to just get consumed in it.
"3

and you have persevered and have patience, and have labored for My name's sake and have not become weary. 4 Nevertheless I have this against you, that you have left your first love."
- Revelation 2:3-4
unfortunately, this happens. But I don't want it to...
this book is from the founder of U-Turn of Christ, and is a very inspiring read :) miracles
do
happen.
Now, for a few random things...
I'm not very crafty. DIY projects scare me. Give me a song, and I can more than likely play it and sing it right back to you, but give me some gorilla glue, beeds, and a round magnet, and
THIS
happens.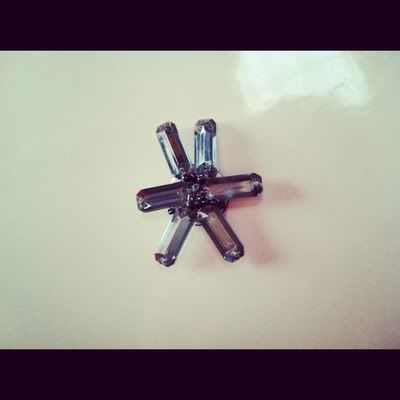 Hailee and Sammi at Grammie's bird-bath. There was actually ice in it. These 2 are the cutest together. It will be fun to see them grow up together!!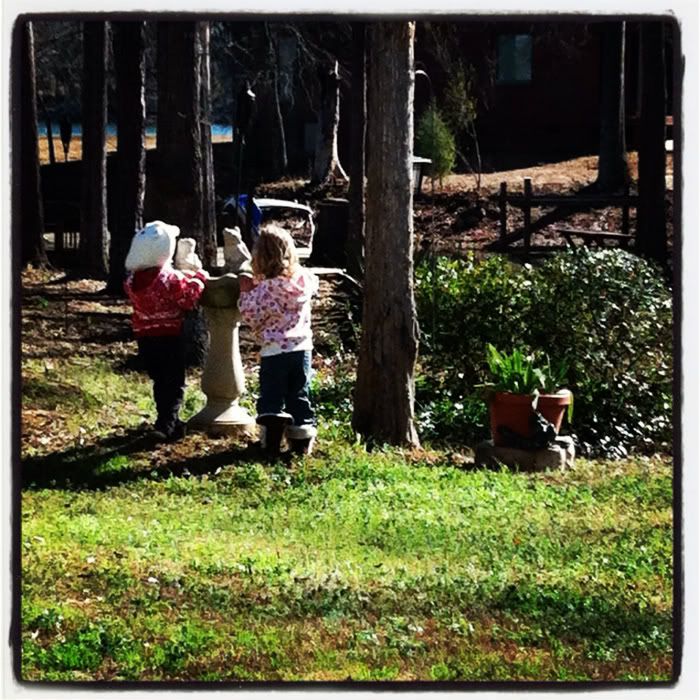 hanging out on the big bed -
LOVING
my new instagram app.
if you have the app, find me on instagram: mistyvenne
. I just can't seem to take enough pictures!! It will be hard, but I'm gonna keep trying to get them every moment I can.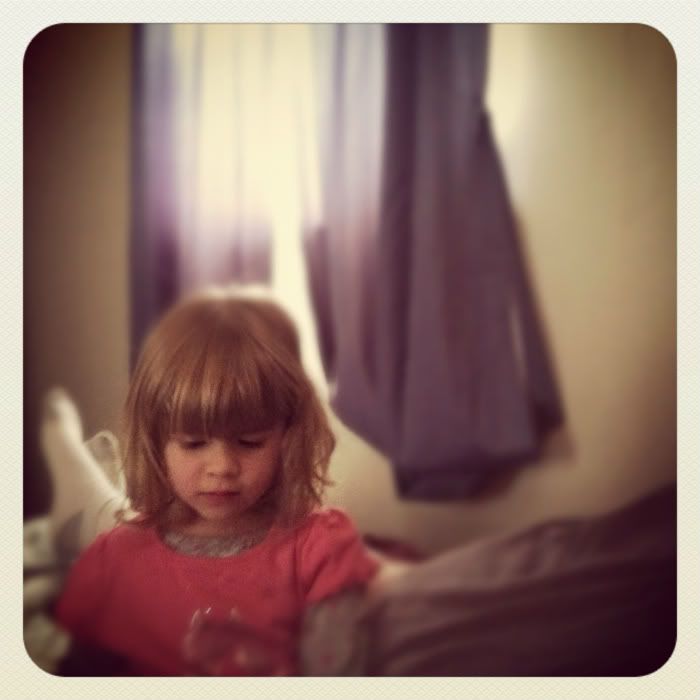 some of Hailee's favorite toys at the moment.. zhu-zhu babies and a lala loopsie doll. We recently got Lala Loopsie a friend Hailee named Tinky. We'll add another to the bunch next week.
I gotta go study for my test now and get Hailee down for her nap. Hopefully she will sleep this time. We had such a busy day yesterday, that she actually put herself to bed last night. I like those nights.
Looking forward to a great 4 day week!!