all i can say is .... WHEW!!!!!!!!!!
1 out of 5 semesters is over!
that was one of the hardest things I've ever done.
I've said it before and I'll say it again... nursing school is NO JOKE!!!
These last 2 weeks of school have been so exhausting. I've studied so much, it's came close burn-out overload
We took our final 2 tests yesterday. They were computerized, standardized, kind of like a mimic NCLEX [the RN licensure exam]. I'm glad we're taking them because they will prepare us for the actual NCLEX when we graduate. [hopefully..] but they were incredibly hard. And until the last minute and the last question, I wasn't sure I even passed, but I did :)
Our final exams [in nutrition and nursing 101] were amazingly hard too! Brutal even.
Our c/o 2013 has been good about giving AWESOME rationale for wrong test questions.. because we're smart :) Our final grades were just posted...
I MADE 'A's IN BOTH MY CLASSES!!!
not some huge accomplishment because 2 classes is nothing. 4 classes - that WILL BE something. But it won't be until January 9.
I will not miss waking up between 5 & 5:30 every morning.

Those Final exams made everyone in my class nervous. No one was sure of what to expect going in to them, and NO ONE was happy with what we saw. Yes, they're supposed to be cummulative of everything we've learned thus far,
but seriously
, I thought it would be general, main ideas we covered. Some of that was on there, but it went into much more depth than I could have ever imagined. When I was done with those exams, I wasn't that sure of my grade anymore. [bu-bye A's...] Then, to magically see an A on my nutrition final exam and a B on my Nursing final exam, I have no idea HOW that happened!!
A friend in my class is letting me borrow her Microbiology books. I have them now. I'll start looking over them and the notes I have in a few weeks. I need to get a jump start on this one because with all that will be going on next semester, I'm gonna need it.
So far, my break has been consumed with cleaning. With all the studying I've been doing, there just hasn't been time to keep up with all the dirty dishes and dirty clothes and dust bunnies. Now, I'm making up for it. Cleaning is not one of my favorite things to do.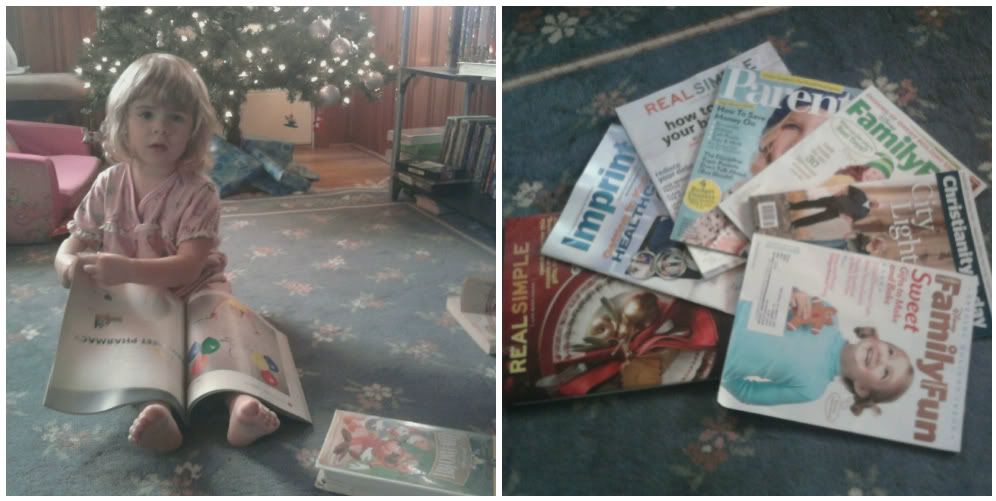 There are some magazines I need to catch up on. Might as well not even have subscriptions anymore. I don't have time to read anything other than my school books and notes. I have missed my favorite girl too! She was with mimi & papa the last few days so I could finish up the semester.
There is still Christmas shopping to be done. Hopefully it will be finished in the next 9 days. Christmas is coming!!!