Another fast, busy week has flown by - and there's still so much I need to do before Tuesday.
Tuesday, 11/22/11, is the only day I will go to school next week. [thank you thanksgiving break!!] That day, I have my 5th nutrition test, my 5th DCT test [dosage calculations], and chart-smart module #7 due [charting computer work - I already turned this in].
THIS PAST week, we had our check-off's for both intramuscular injections on the deltoid muscle, and urinary catheter placement. They were done over Tues, Wed, and Thurs. LUCKY FOR ME [:)], I had both of them 1st thing Tuesday morning. I was sooooo glad to get them over with. I had injections down and could do them in my sleep, but catheter was a whole nother monster in itself. There is SO MUCH to think about when inserting a urinary catheter.. sterile procedure, so it had to be
- not clean -
but completely sterile!!
I was nervous about that whole part of it. It is a very meticulous procedure that has lots of steps involved. I got in there, did it, passed, and could finally relax!! I was so mentally exhausted from preparing for it, that I was in bed by 9:30 that night.
I had my 2nd clinical in the hospital Friday morning too. I stay with my aunt and uncle in Orangeburg the night before clinical since it's only 10 min from the hospital. I STILL have to get up at 4:45AM to be there by 6:15 AM. Next time, I will probably get up even earlier than that!! It took me forever to fall asleep for some reason, and as I was getting ready that EARLY morning, I tripped a fuse in the bathroom with my blow drier. I searched the house, found the fuse box, and didn't see a thing out of place : / That put me back at least 10 min.. Then I get to the hospital a little later than I wanted to - and could not find my hospital badge and student name pin!!! So I was rummaging through my bookbag in my trunk
in the dark
to find my student ID and other name pin. [thank GOD I had those .. and no one noticed they were different :)] I practically was running from the student parking lot - so far away - to the building because it was 30 something degrees out - and I wasn't wearing a jacket so I wouldn't have to keep up with it. I get in the building and go to the wrong stair well - up 6 flights of stairs to the 3rd floor - THEN realize my mistake and had to run down 6 flights to start that all over again.. When I finally get to the 3rd floor
the right way
, it was almost 6:30, time to get going, and I was already out of breath!! But, it was still a good day :) This experience was NOTHING like my 1st clinical last week - but so far, both of them have been great. I
LOVE
my clinical instructor and all the people in my group!! They are awesome, and kind, and compassionate, and great friends to have on your side.
I'm also finally getting to know more people in my class. There were some people that dropped the class last week and our numbers are slowly dropping [still - not as fast as it usually does], and I'm sad to see them go, but it is a very challenging course-load and I can completely understand why they have to drop. Maybe next year they can try again?? I love to help my class-mates in any way that I can! We're all in this for the same reason, with the same goals and it's neat to see people pull together and help each other out without getting competitive!
My mind has been on a million different things this week. I've been trying to study for these tests, but with Hailee here with me, it's nearly impossible. She keeps my attention focused on her. I can't read or think when it's just me and her, so I don't even try to. If I did, I'd just get frustrated and probably snap at her. I
NEED
to practice my DCT calculations like WHOA!! This next test will be on medication labels and I haven't even looked at that stuff yet. It's pretty much the same concept as the last 2 DCT tests, but this time we have pictures to figure out along with the conversion problems.
I have a lot of studying still to do still for nutrition too.
[see what I just did with that last sentence? that's what happens when Hailee's talking to me and I'm trying to do something else at the same time.
THAT
is why I usually don't do anything when it's just us].
this is what we do instead...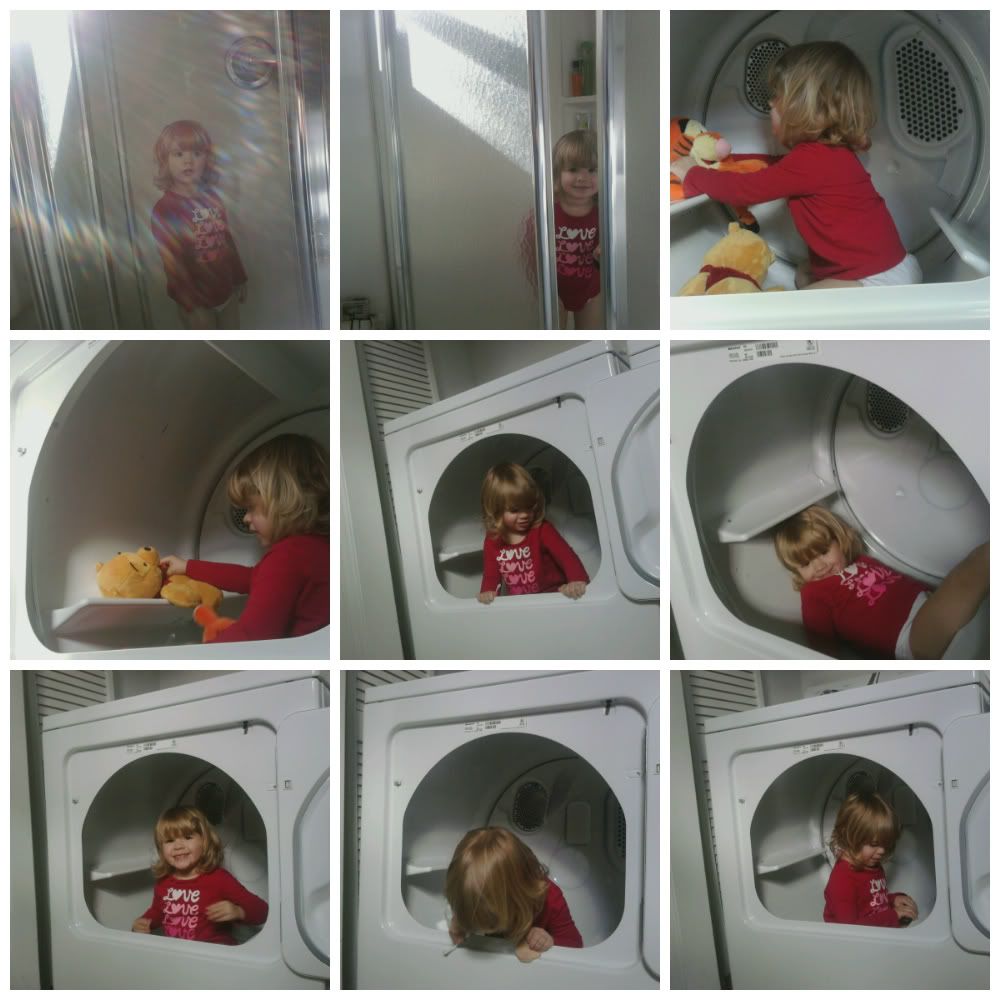 yes, she got in there all by herself.. I discovered this after the fact.
*******
Yesterday, we had family pictures taken at a park here in Lexington, with Roger's parents, his sister's family and us 3 for a total of 10 people. It was stressful leading up to the pictures trying to figure out what Hailee would wear, what Roger would wear, and what I would wear - to coordinate with what everyone else was wearing... and the pictures were scheduled for 4:30 PM, which was a good time, but Hailee decided she didn't want to take a nap regardless of how hard I tried to get her to lay down between 1 - 2 PM. By then, I just gave up. If she wasn't asleep before 2, there's no way we'd ever have enough time to get her ready by 4.
Roger got a nap - at least someone slept..
So we were rushing out of the house @ 4PM. I forgot my wedding rings, Hailee's jacket, and a stack of books I was going to give my mother-in-law. I cannot stand rushing around at the last minute :|
After we finished taking pictures, Hailee played on the playground at the park with her cousins. She has so much fun with them and gets so excited when she learns she's going to spend time with them. [she's at their house right now and i'm sure she's loving every second!]
Roger's dad has some bursitis in his knee, and for the first time, I got to use my nursing skills and all that I've been learning/memorizing so far. How cool was it that I knew what it was, how to treat it, and got to see it on a person instead of in my school book??!! Made me a little excited about becoming a nurse :) :) :)
Grammie brought Hailee some bunny slippers that she loves!

*******
I love that she lets me do her hair now even though it only stays up for a little while.
Potty training is exhausting! But just yesterday, it started getting better. Then again, it could have just been a good day - we've been at it for half a year, and she pretty much knows the deal, but gets so wrapped up in what she's doing that she 'forgets' she has to go potty..
The house is in dire need of a thorough cleaning. I did some yesterday, but can't do it all. baby steps.
We still don't have a solid plan on what we're doing for Thanksgiving this year. Either way, it's not a big deal what we decide, but I'm ready to nail it down so I know what's going on.
i really should be studying right now, so that's just what i'm going to go do!
have a happy thanksgiving with lots of great food - and a good week :)