and I thought this semester
was
is tough???
next semester will probably be the hardest one I've ever had - even considering when I was at midlands tech. I will have 4 classes and one full day of clinical every week.
This semester isn't even over yet, and I'm already thinking about what lies ahead in January - and starting to feel a little overwhelmed. I will be in class every day of the week. I think I'm doing so well in my classes now because I only have 2 and splitting time between them to study is no problem for me. I've got this - but 4 classes and hands-on-lab is uncharted territory.
Nursing 111 - Common Health Problems
BIO 225 - Microbiology & it's 3 hour lab
PSY 203 - Human Growth and Development [doing this one online]
Nursing 161 - Basic Concepts of Pharmacology
one full day of clinical [6:30AM - 3:00PM]
Not all of the class has to take all of these classes. I never took Micro or the other Psychology class, so now I gotta : /
I'm a bit envious of all the people that have these 2 classes behind them. They will only be taking the NUR courses.
So that is why I'm living for the summer. This first semester and the next semester [spring 2012] will be out of the way and I'll almost be a senior :) We're trying to plan a family beach trip for a week in between my spring and summer semesters.
Tomorrow I get my hospital ID badge and Friday we have our hospital orientation!! Still don't know when my clinical is. It will either be Monday or Friday. That fun starts next week. It's still VERY surreal and unbelievable. Hopefully I don't freak out and forget everything I've learned so far!! I just don't think about being in the hospital very much yet - mainly because I don't have time to.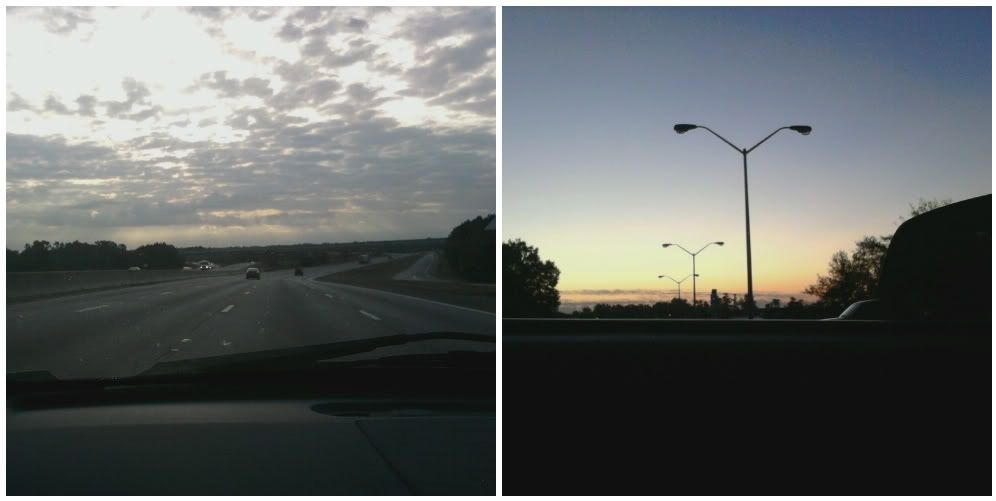 Currently, I'm driving to school in the mornings in the dark and the sun starts coming up just as I get to Orangeburg. The stars are out when I leave my house and on some mornings, if I leave late enough, I see the sun as a big orange ball come up over the trees 5 minutes away from school. It really is beautiful. God can paint an amazing picture :)
Summer has come and gone. No more 90 degree days (hopefully:)
Hailee was with my parents over Halloween. She was a pink princess with a wand of some sort?? and her pink ballerina dancing shoes. She loved it! She knew to go up to the doors and say 'trick-or-treat'. Mom said she'd also say "here comes a princess!" when she was walking up to the people's houses. They took her to Publix and she played some games and got some candy, then she just helped my parents give out candy. I hate that I missed it, but I guess this is how the next 2 years is going to be.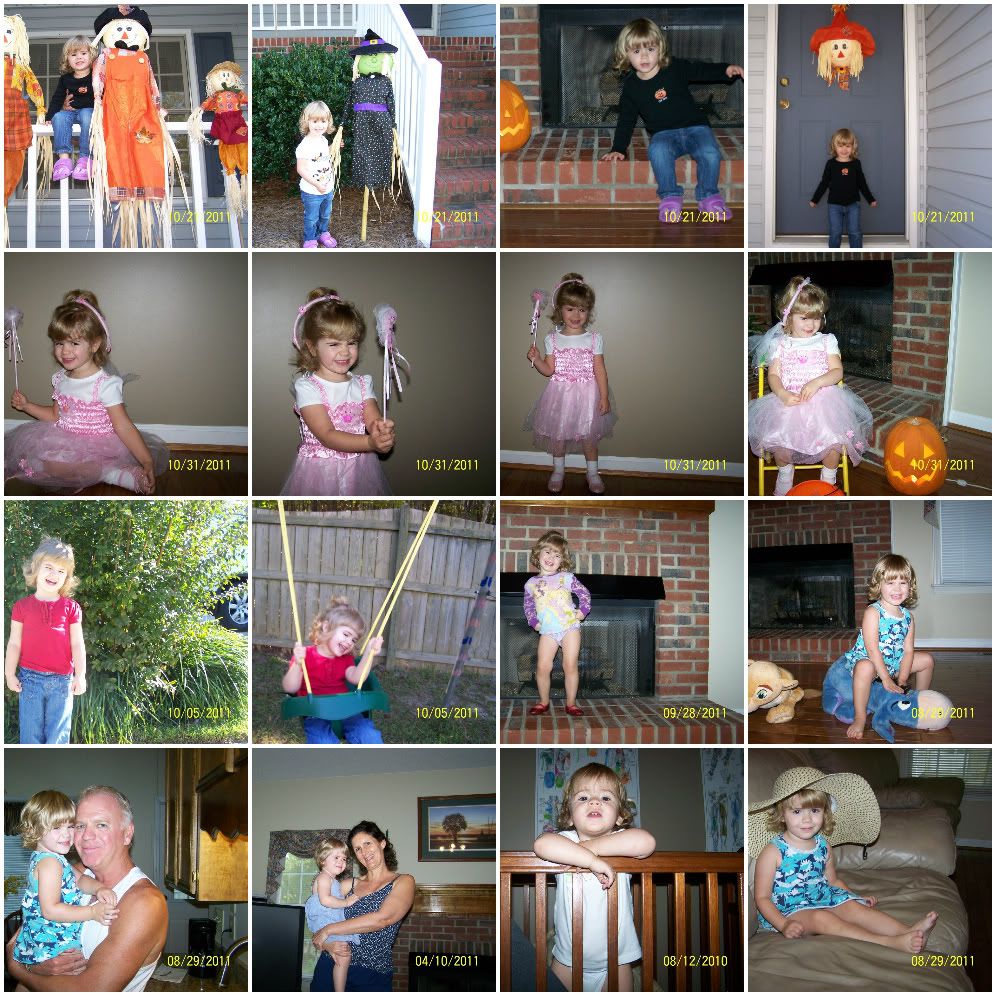 my little booger at mimi and papa's.
She came home with a cold yesterday. I feel so helpless when she's sick :( There's not much I can do - she's too young to take anything to relieve the symptoms except benedryl. I have saline drops/spray for her nose, but she acts it's unbearably horrible when I spray them in her nose, so I only do that every so often. She's sneezy and every time she sneezes, snot gobs come flying out! Kleenex's are in every room :) I was cooking dinner last night and she was entertaining herself in the living room with her squinkies (and unbeknownst to me... the box of kleenexs) She even told me "Mommy, I'm making a big mess..." well, I was cutting up chicken - bleh slimy stinky raw chicken - and I just wanted to get it done, so I just laughed and said, "you better not be making a big mess.." I get the chicken in the oven and walk into the living room to find Hailee with her hand in the box of Kleenex's, taking ANOTHER one out. They were everywhere. I should have taken a picture, really, but I was too dumbfounded to think of anything besides getting all those kleenex's back in the box. I couldn't get mad at her because she isn't feeling well, and it's my fault she was being unattended.
I had to get out the humidifier for Hailee's room last night. She wasn't very keen on the noises it makes. Lately, she's been talking a lot about monsters. Not really sure where that comes from because I don't say anything to her about monsters... Anyway, I kept anticipating her waking up last night because usually when she's sick, she can't lay flat for long periods of time because she gets stopped up. She didn't wake up, but I did - every hour it seemed! Then, I kept getting paranoid about the humidifier running out of water and starting a fire in her room and me not knowing .... blah blah blah, my mind was on overdrive last night between 1AM and 5AM. When I would wake up, it took forever to go back to sleep - and I didn't DARE go in her room because I didn't want to chance waking her up, so I layed awake and just ... wondered... She slept through the night.
atleast one of us did..
I'll sleep good tonight if this coffee doesn't keep me awake too late - had to have it because I started feeling a little run down a few hours ago and we can't have that...
these are just some pictures from this week. Tomorrow and Friday and going to be so busy - the weekend really can't get here fast enough. I should be reviewing my notes and putting my study guide together right now, but Photobucket is not cooperating and this is taking me forever. on a side note ** I've had to add so many words to the dictionary on my microsoft word program. It must be like all the rest of us - we just don't get all that medical language - but I'm slowly fixing that, one word at a time. And I'll be taking it one day at a time and try not to get too overwhelmed. just breathe. just breathe.
Ok, I'm off to figure out my iron [finally bought one] - getting my hospital ID made tomorrow and have to wear my
IRONED
lab coat. Then I'll need to wear it again Friday for orientation :)
ta-ta..