pa rrrrrrum pum pum pum...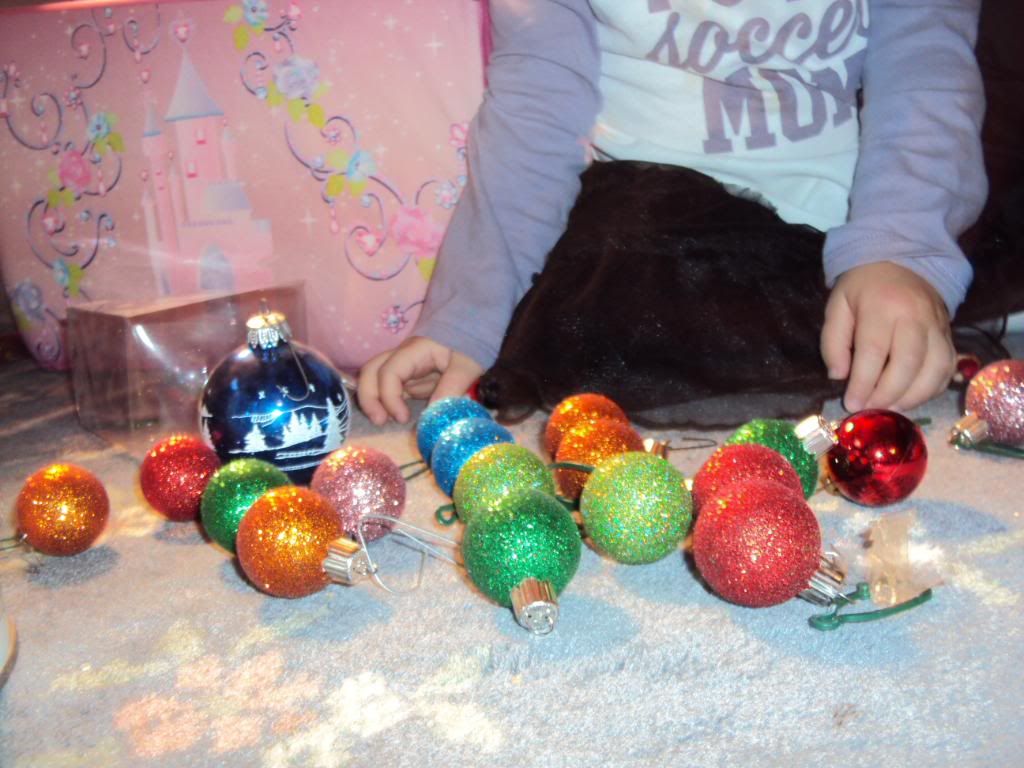 'Tis the season [in our house at least..]
Christmas is one of our favorite times of the year, so we get the celebrating started early round here :)
Roger has been prompting Hailee about what happens "when it gets cold outside..." ever since September.
She's so smart and now, she responds with, "we watch Christmas movies, and make Christmas cookies, and sing Christmas songs, and have a Christmas tree, and drink HOT CHOCOLATE!!" [her favorite part]
Traditions begin in families. Roger has decided our Christmas stuff will start going up at the beginning of November. I'm fine with that because usually, with the hustle and bustle of the Christmas season, it comes and goes so fast, that there's not enough time to enjoy it fully.
We picked out our Christmas tree, wrestled the awkwardly large box into the backseat of my car, got it home, and began getting out all our Christmas stuff.
Hopefully we'll keep this tree another year. Last year, the tree didn't fit right in the base and sort of wobbled from side to side when you looked at it the wrong way. But it had different colored lights so now, Hailee thinks a Christmas tree is NOT a Christmas tree unless it has all different colored lights. She may be slightly dissappointed that our tree has only white lights [or yellow as she sees it] but I like the white lights much better. Maybe we'll let her string a colored strand somewhere in her room!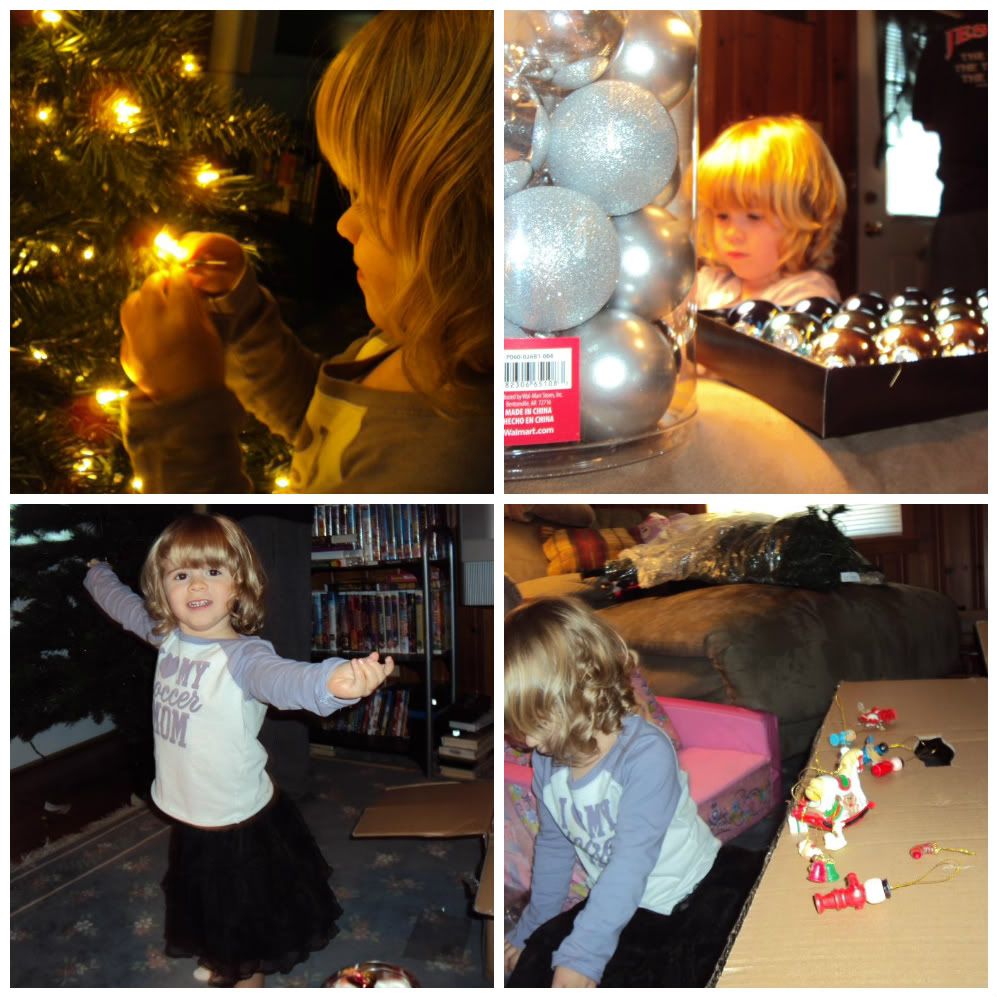 We let her pick out the color of the ornaments - Silver and Blue [not too bad for a 2 year old] I was a little worried she'd pick some crazy colors, but baby girl did good :)
She cannot keep her hands off the tree!
Her tiny fingers fumbled with those little hooks on the ornaments until she was frustrated because she couldn't figure out how to make them stay on the branches.
There are a cluster of ornaments near the bottom of the tree at her level - with many all hanging from the same branch. I love it though, because she did it herself!
Pandora was playing Christmas music in the background, Roger was putting the tree together, Hailee was playing with all the ornaments I was pulling out, and I was setting things up - like our nativity scene. Hailee asks who everyone is in the nativity scene and she wants to take the people/animals out so bad and play with them, but they don't come out - maybe we'll get her a nativity scene of her own she can arrange.
We attempted to make Christmas cookies.
Roger will tell you - with me, it's always something.. I have never made Christmas cookies..
I had my rolling pin, the cookie dough (Pillsbury sugar cookie dough in a tube - there's my 1st problem), bow - Christmas tree - ginger bread man (cookie monster) cookie cutters, red and green sprinkles, and we were ready to go!
Roger and I were laughing till there were tears at my colossal mistake. Poor Hailee just wanted to help, but with the wrong kind of dough, there was nothing she could do but sit there and watch me get dough everywhere because it would not cooperate. Finished Product - not what I was shooting for.
We'll try again some other time.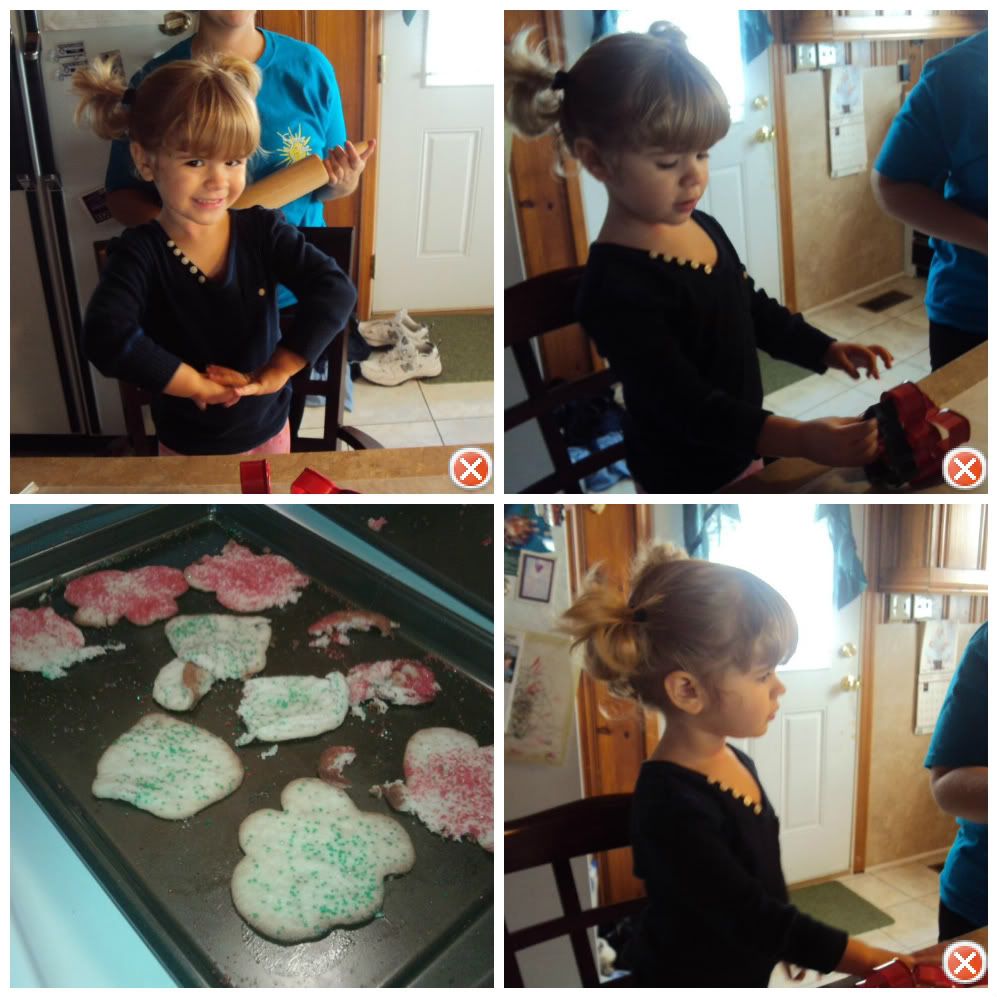 Hailee insists on plugging in the Christmas tree as soon as she wakes up and walks into the living room. She is fascinated with the lights

.
I love my time with Hailee. She is so funny and creative already!
She speaks her mind and can instantly sense underlying emotions, no matter how hard we try to hold them back. If we're not in the best of moods, she can tell and says "BE HAPPY!!"
She's still got a lingering cold. It's hard to see her miserable and uncomfortable when she's sick and I thank GOD it doesn't happen very often.
She really tries to figure things out on her own and is coming in to her own independence :)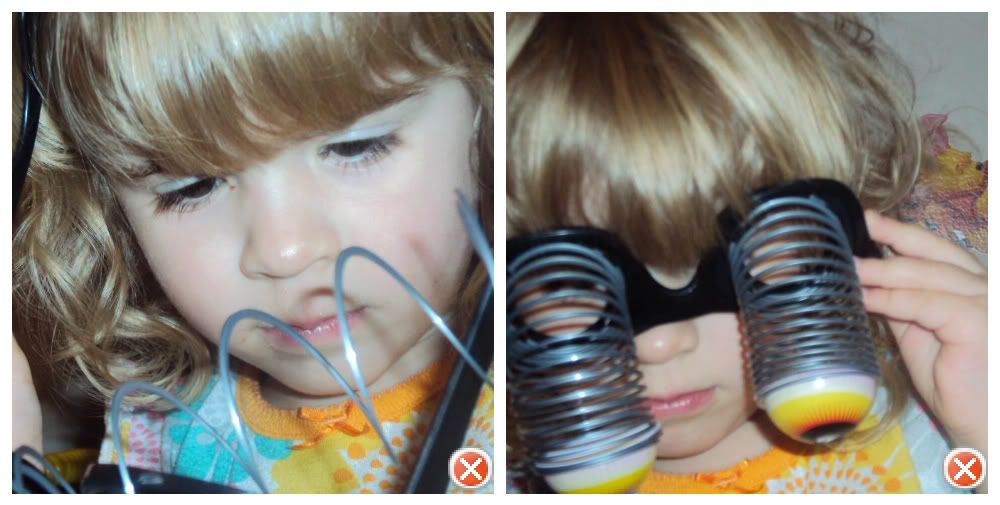 She was taking pictures with the camera by herself when we were playing in her room the other night. She really thought she was something!!
I caught her writing on one of her new Squinkies with a red marker yesterday and I asked her what she was doing. She said "I'm writing NEW SQUINKIE on it".
cuddle time with this little girl is like none other. It melts my heart when she crawls up into my lap and says "mommy I wanna hold you!" Just one of the things I love about being a mother.
I've got a Big test tomorrow I should be studying for right now. Mom is sick too so I have to leave in a minute and go get Hailee from them. I'll sneak some studying in when I have a few free minutes today between playing, cleaning and doing laundry. There is a LOT of cleaning that needs to be done today. I was able to get most of my studying done last night when she was spending the night with my parents. They have been a crucial part of me being in school. Their support means the world to me! Without my parents help, this school thing would be very difficult.
Orientation at the hospital was last Friday. That was where it started feeling FOR REAL! We all met at 6:30AM in our starchy white lab coats and toured the halls of the hospital. We saw a few patients scattered about in the early morning hours, but since it was so early, it was safe to say that not too much was going on. We still turned heads as we were walking in our groups with our instructors.
A majority of my class had their 1st Clinical experience yesterday and the rest of us will go to the hospital on Friday for our 1st day :) I cannot wait to hear all of their stories as I'm sure there are many!!
I'm not really nervous about giving someone a bed bath - I think its just NOT KNOWING what will happen. Or maybe it's KNOWING things aren't going to go as smoothly as they did when we were practicing and getting checked off on all our skills. Life is just that - unpredictable. But it will be nice knowing I'm helping someone with something they cannot do for themselves. This is what I will focus on and I will learn so much more in the coming months to use in my career as a NURSE.
Let the fun begin!!