Yay for friday!!
This week was long and exhausting and I'm so glad it's over.
It was a real adjustment after having a whole week off and getting back into the swing of things. I had such issues making myself study over fall break. I got my study guides made, but sitting down to study them was a whole nother story. So, my 2 quizzes this week went great, along with the nutrition test. I'm pretty sure I made an A on it. Not sure of the number grade yet, but I didn't miss many at all, and the ones I did miss were just random questions that the teacher never covered in class, so I just made an "educated guess" on.
I'm usually one of the 1st ones done with my test. Mainly because I DO NOT second guess myself. If I do, it's usually right the first time, and when I change my answer, it is wrong. So, I go through it once, and that's that.
My next test isn't for another 2 weeks. That's good and bad because I'll have tons of time to study, but for the stuff we covered before fall break, it will almost be a month old to me and I'll REALLY have to get it back in my head.
We're learning so much, so fast.
Just this week, we had 2 labs. We learned NG-tube placement and removal, Trachea Care (cleaning someone's tracheostomy), ostomy care - urinary, ileostomy & colostomy (which I'm sort of familiar with already because my little brother had to go through some of that in his teenage years), intake and output (specimen collection), and Enemas (this is the easiest one for me). We are also still practicing our injection skills and urinary catheter placement and removal (these two are the scariest ones for me!! and the ones I'll have to practice the most). It's easy when it's a mannequin you're practicing on, but eventually, it will be the real deal - and that's a little frightening to me still.
We have our orientation next Friday at the hospital and we have to wear 'business clothes' since we don't all have our uniforms yet. [We're waiting on our aprons from the uniform people.] I have all my stuff except for that apron. However, there are a few things I still need to get - white panties :) since
our uniforms are white, you can see everything beneath that is NOT. And white pantie hose for the dress uniform [since I don't own pantie hose], and MOST IMPORTANT - an iron. :) Never really had to iron anything. Dryers usually work quite nice for me!! Since we have to look all crispy and professional, gonna have to invest in one! Just hoping I don't scorch the uniform. That could be bad. Also need to go shopping for a 'business outfit' I'm a casual gal and love my jeans and sneakers and don't really own anything businessy. It's been YEARS since I've had to wear that kind of stuff to work or anywhere.
Roger has been on call this week, and last night was the first night he was home with us. Those on-call weeks can be rough but when he's the only one working in the family, that once a month thing doesn't seem so bad.
We were going to carve the pumpkin as a family on Wednesday night, but right after Roger got the face drawn on the pumpkin, his phone rang and he was whisked away to go work on someones plumbing. So I picked up where he left off with a little help from Hailee. Her favorite part was the pumpkin goo. As much as she said it was yucky, she just kept sticking her hand in the bowl and saying, "ewww!!" such a girl. She was pretty satisfied with the finished product. And I'll admit, it wasn't bad for my first pumpkin carving experience. Yes, I'm 30 and this is the first time I've carved a pumpkin. Her squinkies even got in on the action. Then after we cleaned up, we had some hot chocolate with marshmallows on top. Roger hated to miss it, but it couldn't be avoided.
Then, I attempted to bake the seeds with a recipe I found on allrecipes.com for spiced pumpkin seeds. FAIL. The butter burned. Maybe next year.
Whenever Hailee goes to stay with Mimi and Papa for a few days a week so I can study, she always comes home with new phrases and just seems to be saying more and more. My child is growing up before my eyes. It's amazing how fast it happens. She is one of
the sweetest, behaved, loving little girls - and I'm not just saying that because I'm her mother. This is all God's incredible work. For me to even be a mother was so hard to fathom 3 years ago when I found out I was pregnant. I see so much of Roger in her actions and so much of me in her little face. She is absolutely in LOVE with her daddy and it just melts my heart to see them interact.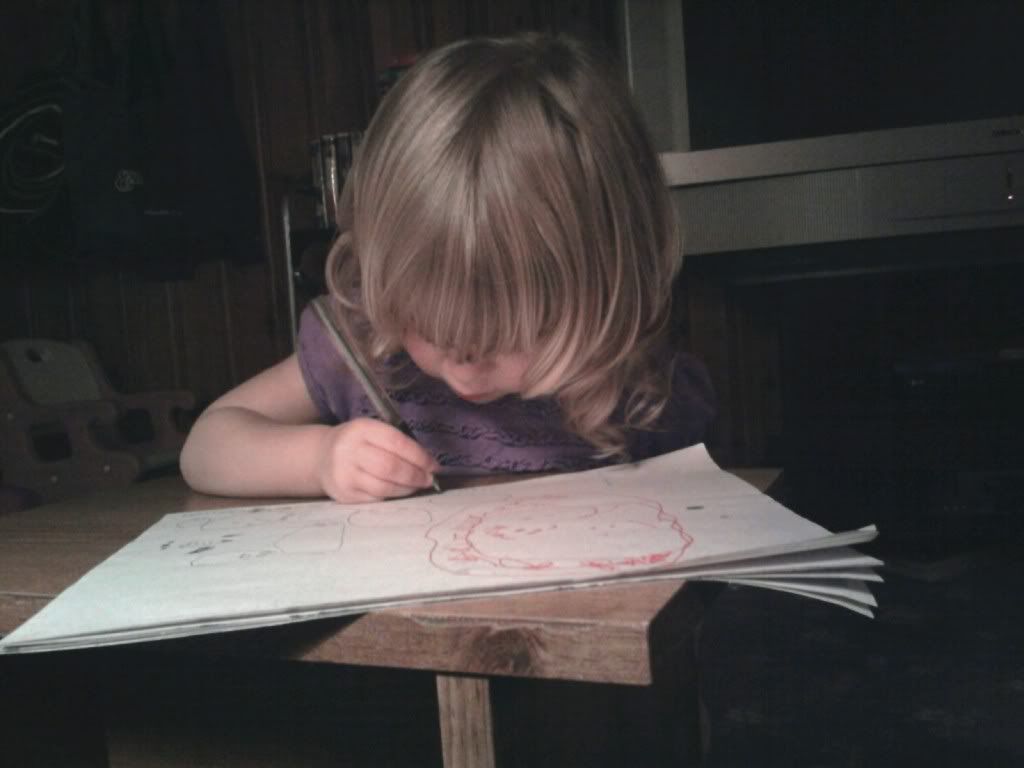 She concentrates hard on her 'drawings'. I found one in one of my folders while at school the other day and almost laughed out loud. She'll draw things, then explain what they are and I love it :)
I get to sing worship with Kevin tonight at the U-Turn Service! I Love that :) We're going to have a pretty full band and 2 guitar players, so I won't be playing tonight. It was sort of a last minute thing because my LOVELY sister in law, Cynthia [aunt cyn] asked if Hailee could stay over with them tonight - and originally I wasn't going to be able to sing because I didn't have anyone to watch Hailee while we practiced. Hailee was so excited when I asked her if she wanted to stay with her cousins. She absolutely adores them and cries when it's time to come home. I'm just glad she has cousins her age. I never did. Mine were either 10 years [and more] older, or 10 years [and more] younger. I love my sweet cousins but they weren't my age so I missed out on growing up with them.
Gonna try my hardest to sneak in some study time this weekend!! Hope everyone has a safe Halloween.